The structure of concrete mixer truck
2017-09-30
For concrete mixer trucks, the structure has three main parts, a mixing cylinder, an operating system and a water supply system. Now let us explain them to you one by one.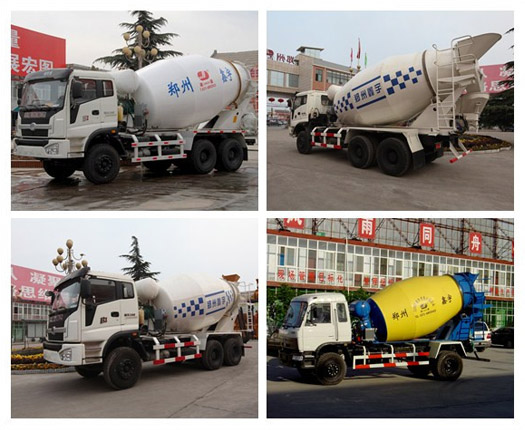 1.Mixing cylinder
Mixing cylinder is the main component of concrete mixer truck, mainly composed of cylinder, blade, raceway, hopper and other components, curved blade helps to improve the discharge performance of commercial concrete, the holes on the leaves can reduce the adhesion of commercial concrete on it. The leaves with mixing performance is conducive to improving the quality of commercial concrete, the entire mixing cylinder installed on the bracket, supported by two wheel on the behind, stirring cylinder with holes, easy to maintain.
2.Operating system
According to customer demand is divided into connecting rod operation or flexible shaft control. The connecting rod is distributed in the cab and the rear, and the cab is controlled by a flexible shaft to lock the steering of the stirring cylinder to ensure that the stirring cylinder is in a state of agitation when the vehicle is running. Both sides of the rear are connecting rod control system, operating handle, connecting rod can drive the hydraulic pump adjustment handle and engine throttle to adjust the flow of hydraulic oil and direction, thus control the mixing tube incharge and discharge. The flexible shaft is distributed on the left side of the rear, it is simple, flexible and easy to operate.
3.Water supply system
The water supply system is mainly used for the cleaning of concrete mixer truck. Usually the water supply system is divided into two kinds, pressure water supply and water pump supply. At the top of the reducer, a pressure tank is installed. The compressed air in the chassis storage cylinder is passed through the pressure reducing valve Pressure in the water tank, open the control valve when cleaning, high-pressure water will spread out automatic. Water pump supply system can be optional according to customer needs.