Product Overview
Technical parameters
Inquiry
JS500 Twin Shaft concrete mixer


1.Application
They are widely used to produce dry hard concrete, plastic concrete, flow concrete, light aggregate concrete, various mortars, etc. Suitable for all kinds of big, medium and small precast concrete plant;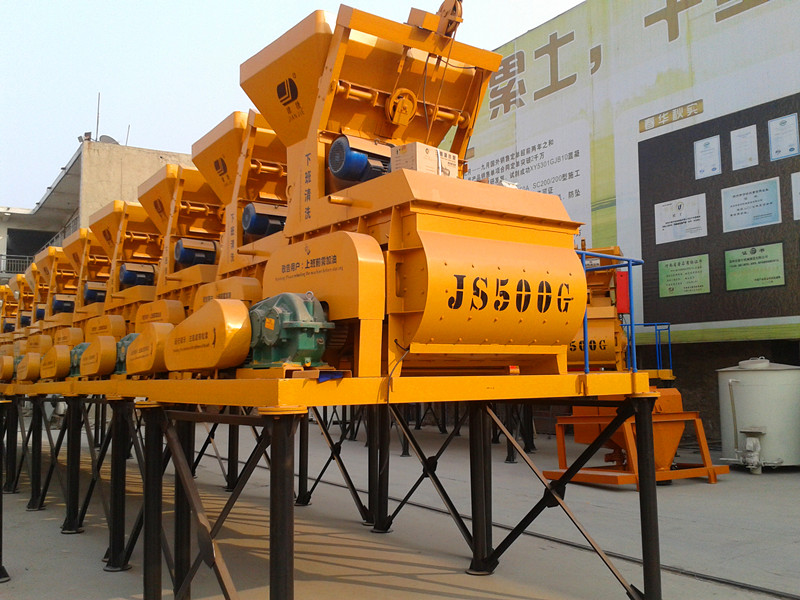 2.JS500 twin shaft concrete mixer
1.Mix plastic and half-dry hard concrete, fluid concrete and light aggregate concrete.
2. Working condition: Road, Bridge & Precast product for factory, work independently or be used with correspond batching machine as a mini-type concrete plant.
3. Discharge system: Hydraulic & manual mode, drive reposefully and low noise.
4. Inside Mixer: Liner and mixer blade adopts high rigidity wear resistant steel (long service life). The electrical system adopts import component, form those world famous exporter which are reliability and have good performance.
5. The height of discharge: 3m or 3.8m (adjustable)

3.Technical parameters of JS500
Item

JS500

Parameter Model

Discharge volume

500L

Charging volume

800L

Theoretical capacity

≥25m3

Aggregate sizes

≤60/80mm

Working circle

60s

Mixing blade

Speed

35r/min

Quantity

2×7

Mixing motor

Model

Y180M-4

Power

18.5 kw

Lifting motor

Model

YEZ132S-4

Power

5.5 kw

Pump motor

Model

50DWB20-8A

Power

0.75 kw

Weight

1500kg

Dimensions (L x W x H)

3030x2300x2680 mm



4.Our Serivice
As a professional exporter,our target is to serve worldwide clients with high-quality products,great reliability,devoted responsibility,professional services and honorable credibility to meet customers' requirements in all aspects.
We will supply you 24 hours a day and 7 days a week
after-sale services such as installation.
Item

JS500

Parameter Model

Discharge volume

500L

Charging volume

800L

Theoretical capacity

≥25m3

Aggregate sizes

≤60/80mm

Working circle

60s

Mixing blade

Speed

35r/min

Quantity

2×7

Mixing motor

Model

Y180M-4

Power

18.5 kw

Lifting motor

Model

YEZ132S-4

Power

5.5 kw

Pump motor

Model

50DWB20-8A

Power

0.75 kw

Weight

1500kg

Dimensions (L x W x H)

3030x2300x2680 mm