Product Overview
Technical parameters
Inquiry
High-efficiency
Diesel
Conc
rete Mixer Machine

Information of
Diesel
mo
bile concrete mixer machine
Self loading Concrete Mixer with Diesel Engine Power and Hydraulic Tipping Hopper is a self loading concrete mixer of double conical drums which discharge concrete by reverse-rotation, suitable for mixing plastic and semi-dry & hard concrete with the size of aggregate up to 60mm. Mixing is carried out when the mixing drum rotates in normal direction, and discharge is performed when the mixing drum rotates in reversed direction. Each time, the mixing drum can handle 0.35 cubic meters of concrete.

The mixer is designed and manufactured according to GB/T9142-2000<Concrete Mixer>, it is featured by novel construction, advanced performance, high productivity, high mixing quality, compact structure, low energy consumption, simple operation, etc. Therefore, JZC350-DH Concrete Mixer is particularly suitable for circumstances like ordinary construction sites, road construction, bridge work and small-sized prefabricated-component factories etc.

Main Features
1) Chinese TOP Brand CHANGCHAI or CHANGFA Powerful water-cooled Diesel Engine As Option
2) Steel Flexible Guide Wheel
3) Robust and Strong Trailing Rod
4) Big Capacity Hydraulic Oil Tank(70 Liter)
5) Middle Situated and Bolt Connected Design of Grand Gear Ring.
6)Wear resistant plate for Mixing Drum ,thickness from 6mm to 8mm.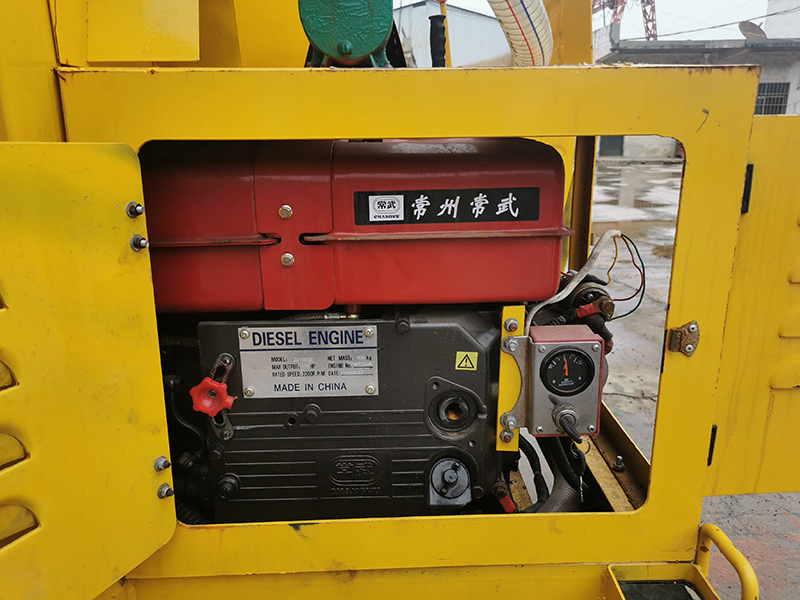 Features 1:Water-cooled Diesel Engine
Brand: CHANGCHAI Brand, CHANGFA Brand
Original: China
Domestic famous engines, strong driving force, low fuel consumption, high economic benefits.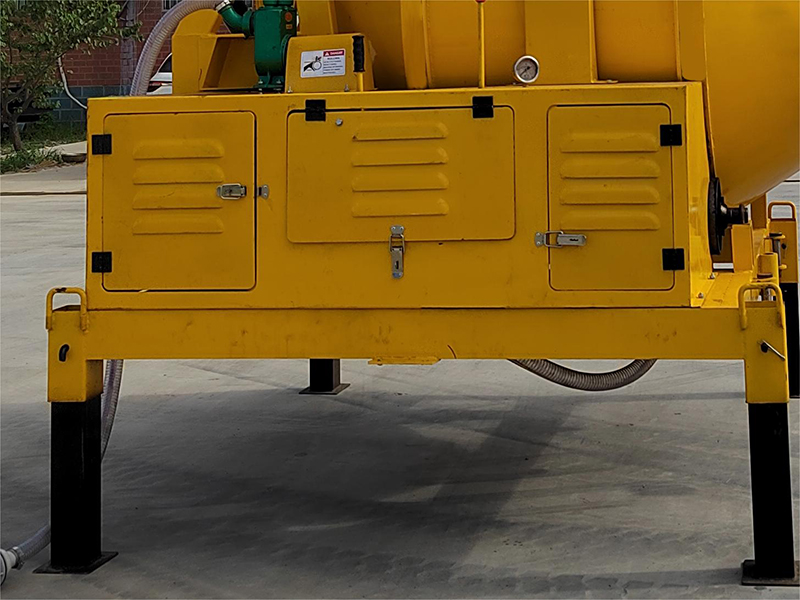 Features 2:Portection Cover
Material: Q235 Steel Plate,3mm
Features:Made by Q235 Steel Plate,which thickness is 3 mm,make sure it can protect the Transmission System from damaged . What's more,because of the Engine was setted in the cover, which could prevent the dust and concrete from coming to engine directly. And thus the service life of the engine could be prolonged.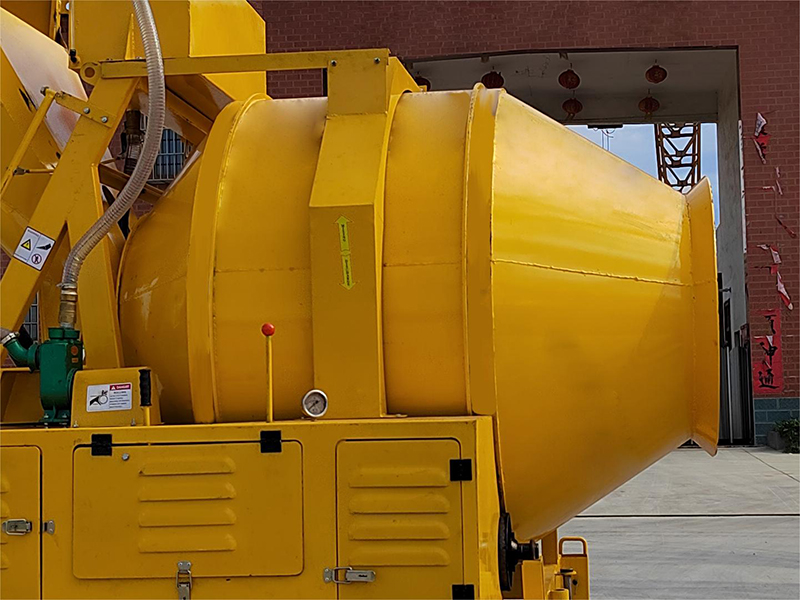 Features 3:Concrete Mixing Drum
Material: Q345 Wear resistant Steel Plate
(1)The Drum Thickness is 6mm,made by Q345 Wear resistant Steel Plate.
8 mm as Option.
(2)Middle Situated and Bolt Connected Design of Grand Gear Ring.
a. The Middle Situated Design of Grand Gear Ring makes power transmission more balanced
b.The Bolt Connected Design could it more easier to change the gear ring when it is broken.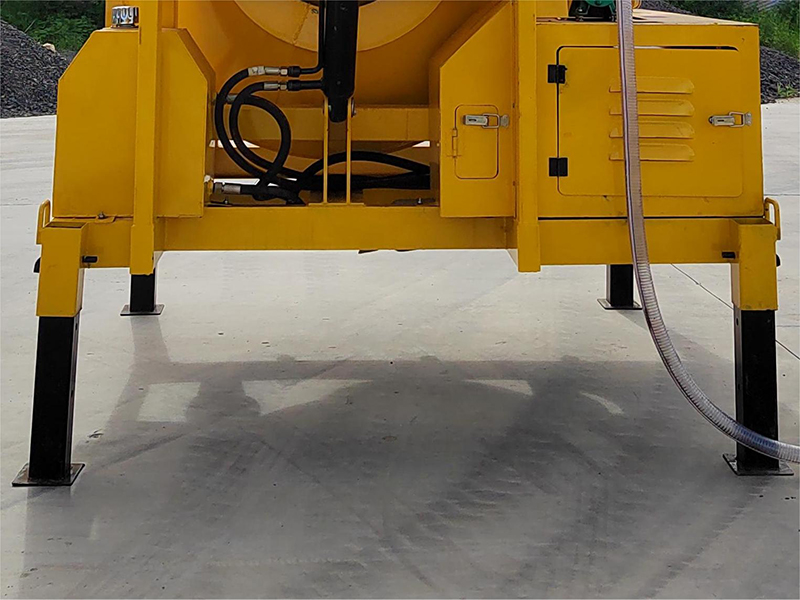 Features 4:The Heavy-duty Frame
We use No.12 BOX IRON as our Concrete Mixer Frame.The material width is 12cm.which is much more robust than normal type.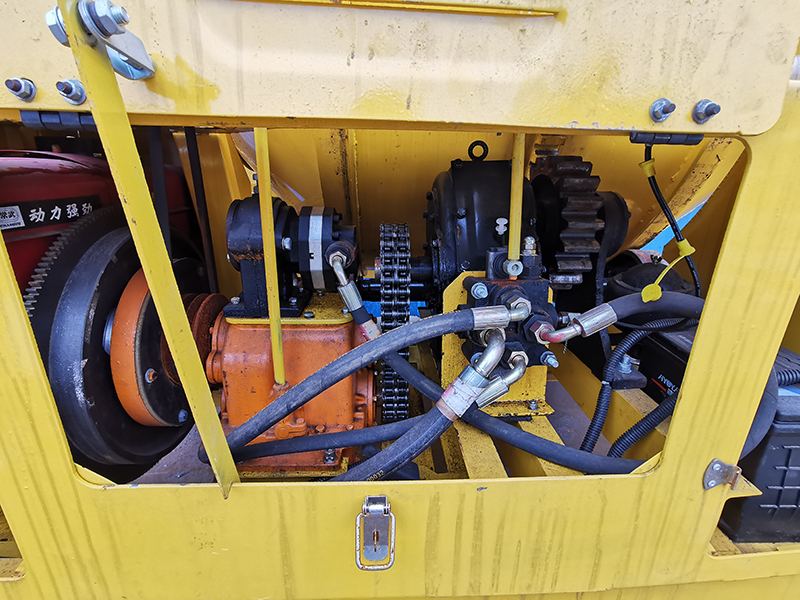 Features 5:Transmission system
Rational Design,guarenteed the power transmission.Make sure that this machine could have a longer Service Life and Less Maintenance.


Parameter
Item\Model

JZC350

JZC500

JZC750

Main performance parameters

Discharging Capacity(L)

350

500

750

Loading Capacity(L)

560

800

1200

Productivity(M3/H)

10-14

18-20

22-30

Bags of Cement per Batch(bag)

2(50kg/bag)

3(50kg/bag)

5(50kg/bag)

Max.Size of Aggregate(mm)

60

80

80

Drum Thickness(mm)

6

8

8

Tyre Size

6.50-16

6.50-16

6.50-16

Engine

Engine brand

CHANGCHAI

CHANGCHAI

CHANGCHAI

Type

Horizontal, Single Cylinder, Four-stroked and Water Cooled

Water-cooled Brand

Dieselm Engine L24M

Rated Rotating Speed(RPM)

2200

13

13

Power(Hp)

16

22

25

Hydraulic System

Cylinder diameter(mm)

90

90

100

Displacement of Main pump(mL/r)

25

25

25

Rater Flow of multitandem Valve(L/Min.)

100

100

120
Parameter
Item\Model

JZC350

JZC500

JZC750

Main performance parameters

Discharging Capacity(L)

350

500

750

Loading Capacity(L)

560

800

1200

Productivity(M3/H)

10-14

18-20

22-30

Bags of Cement per Batch(bag)

2(50kg/bag)

3(50kg/bag)

5(50kg/bag)

Max.Size of Aggregate(mm)

60

80

80

Drum Thickness(mm)

6

8

8

Tyre Size

6.50-16

6.50-16

6.50-16

Engine

Engine brand

CHANGCHAI

CHANGCHAI

CHANGCHAI

Type

Horizontal, Single Cylinder, Four-stroked and Water Cooled

Water-cooled Brand

Dieselm Engine L24M

Rated Rotating Speed(RPM)

2200

13

13

Power(Hp)

16

22

25

Hydraulic System

Cylinder diameter(mm)

90

90

100

Displacement of Main pump(mL/r)

25

25

25

Rater Flow of multitandem Valve(L/Min.)

100

100

120