Product Overview
Technical parameters
Inquiry
YHZS75 Mobile Concrete Batching Plant
Brief introduction
YHZS75 mobile concrete batching plant adopts the semi-pulling structure with running system and standard coupling pin included. It is a new type of movable cement mixing plant which can be dragged by a tractor to transferring work-site easily and quickly. Without foundation and commissioning enables convenient movement and quick installation.
Features:
1. More secure: layout and installation of electrical wiring fully considers safety. Many places are equipped with safety switch.
2. More reliable: Professional embedded computer, which can be operated manually, automatically and automatic production which will meet a variety of needs. And the control system has the data backup function at sudden power outage which can effectively prevent data destruction.
3. More powerful: Automatic storage management can record operational process. And automatically maintenance warning system can remind operators.

Application
YHZS series mobile concrete batching plants are widely used in various kinds of large and medium scale prefabricated factory, construction site, road, bridge, airport, tunnel and many other projects. It is also suitable for water conservancy, the electric power, the railroad, the road, the harbor-wharf and so on.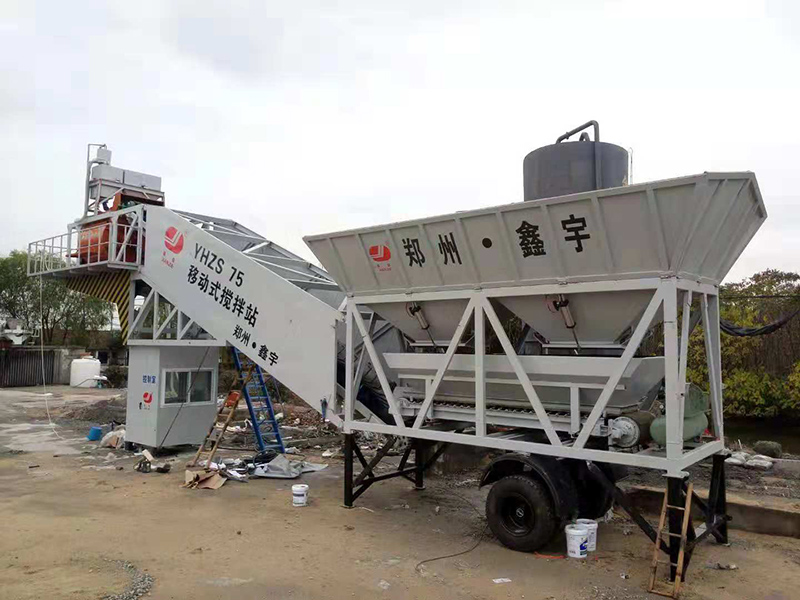 Technical Parameters


Model

YHZS25

YHZS40

YHZS50

YHZS75

Capacity

25m3/h

40

50

75

Mixer

Type

JS500

JS750

JS1000

JS1500

Power

18.5kw

30 kw

37 kw

2*30 kw

Discharging capacity

0.5 m³

0.75

1

1.5

Aggregate bin

PLD1200

PLD1200

PLD1600

PLD2400

Weighing accuracy

Aggregate

±2%

±2%

±2%

±2%

Cement

±1%

±1%

±1%

±1%

Total power

56.5kw

76 kw

88 kw

112 kw

Gross weight

15t

17.5t

19t

21t

Max. trailing Speed

40 km/h

40 km/h

40 km/h

40 km/h

Voltage

AC380V/50Hz

AC380V/50Hz

AC380V/50Hz

AC380V/50Hz
Technical Parameters
Model

YHZS25

YHZS40

YHZS50

YHZS75

Capacity

25m3/h

40

50

75

Mixer

Type

JS500

JS750

JS1000

JS1500

Power

18.5kw

30 kw

37 kw

2*30 kw

Discharging capacity

0.5 m³

0.75

1

1.5

Aggregate bin

PLD1200

PLD1200

PLD1600

PLD2400

Weighing accuracy

Aggregate

±2%

±2%

±2%

±2%

Cement

±1%

±1%

±1%

±1%

Total power

56.5kw

76 kw

88 kw

112 kw

Gross weight

15t

17.5t

19t

21t

Max. trailing Speed

40 km/h

40 km/h

40 km/h

40 km/h

Voltage

AC380V/50Hz

AC380V/50Hz

AC380V/50Hz

AC380V/50Hz