Product Overview
Technical parameters
Inquiry
Introduction:

Asphalt mixer, also known as asphalt concrete mixer, refers to a complete set of equipment used for mass production of asphalt concrete, which can produce asphalt mixture, modified asphalt mixture, and colored asphalt mixture. It is used to build highways, grade roads, and municipal necessary equipment for roads, airports, and ports.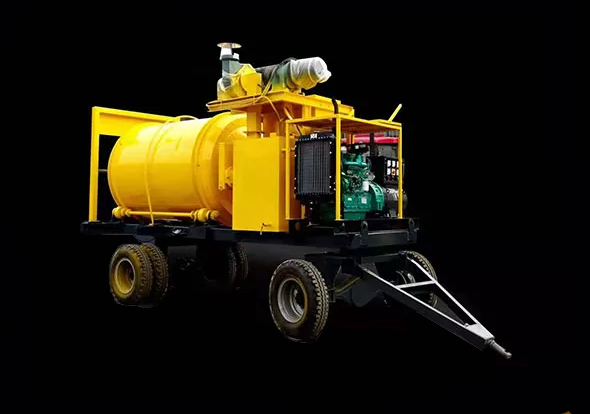 Featrues:
(1) Burner is available for coal and oil.
(2) Operators can observe and modify the relevant data, it is very human.
(3) Mobile operation mode: The whole machine is hoisted on the truck without any modification, and it is carried by the vehicle to the construction site.

Details of XY4-6 Mobile Asphalt Mixer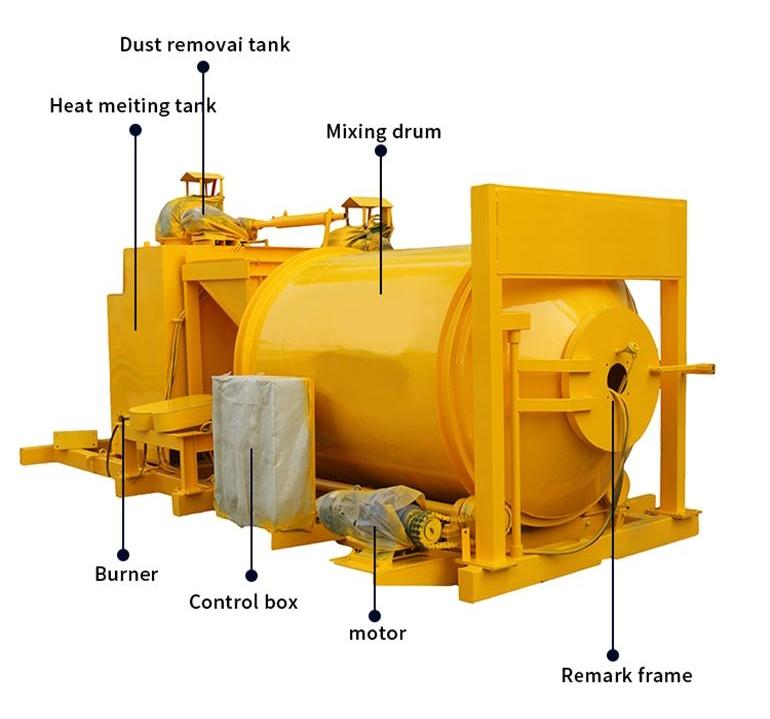 Application:

●Used for asphalt pavement pothole repair
●Used for paving colored asphalt pavement
●Used for the recycling of old asphalt
●Used for paving asphalt concrete in small area courtyard

Main Parameters of XY4-6 Mobile Asphalt Mixer

Model

XY4-6 Mobile Asphalt Mixer

Capacity

1ton/batch,10-15min/times

Insulation roller volume

3.88 M3

Burner

Italy Riello /RG5S


Upper hopper volume

0.3 M3(350KG)

Feeding method: hoisting and unloading

Dust collector

Cyclone and Y80M2-2
Centrifugal fan and water dust removal

Generator power

30 KW/TFS-30

Asphalt tank volume

800L

Heat transfer oil volume

200L

Actual drum agitating amount

0.7-0.8 M3

Mixer drum material

Double-layer manganese plate

Mixer drum material thickness

Single layer thickness:5.75MM

Rock wool thickness

5CM



Hot melt kettle

Four layers

Each layer: 5 cm apart

From the inside to the outside: Asphalt oil layer, heat transfer oil layer, fire layer, rock wool layer.


Dual burner

Main burner: type 44

Auxiliary burner: type 40

Discharging temperature

130-170degree (adjustable)

Overall dimension(L*W*H)

5250 x 2100 x 2350mm

Weight

5200Kg
Technical Parameters

Model

XY4-6 Mobile Asphalt Mixer

Capacity

1ton/batch,10-15min/times

Insulation roller volume

3.88 M3

Burner

Italy Riello /RG5S

Upper hopper volume

0.3 M3(350KG)

Feeding method: hoisting and unloading

Dust collector

Cyclone and Y80M2-2
Centrifugal fan and water dust removal

Generator power

30 KW/TFS-30

Asphalt tank volume

800L

Heat transfer oil volume

200L

Actual drum agitating amount

0.7-0.8 M3

Mixer drum material

Double-layer manganese plate

Mixer drum material thickness

Single layer thickness:5.75MM

Rock wool thickness

5CM

Hot melt kettle

Four layers

Each layer: 5 cm apart

From the inside to the outside: Asphalt oil layer, heat transfer oil layer, fire layer, rock wool layer.

Dual burner

Main burner: type 44

Auxiliary burner: type 40

Discharging temperature

130-170degree (adjustable)

Overall dimension(L*W*H)

5250 x 2100 x 2350mm

Weight

5200Kg