The Basic Components of Concrete Mixing Plant
2017-04-17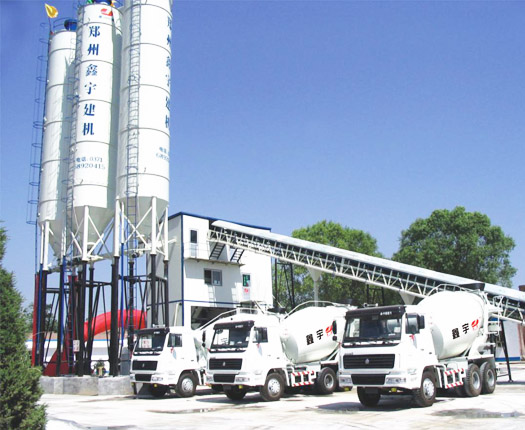 Concrete mixing plant is composed of material storage system, material weighing system, mixing machine, electrical control system and other ancillary facilities.
1.Aggregate storage system including sand and gravel storage hopper, cement silo, water tank, additive storage tank.
2.Aggregate weighing system including batching machine scale, cement scale,water scale, additive scale. Batching machine scale can be divided into individual weighing scale and Cumulative weighing scale. The individual weighing scale features simultaneous measurement and save much more time compared with Cumulative weighing. Individual weighing system is widely used in the large concrete batching plant.
3.Aggregate transit system of Concrete Mix Plant on Sale:belt conveyor, cement screw conveyor,water pump, sand lifting hopper.
4.The mixing machine can be divided into single shaft concrete mixer, twin shaft concrete mixer, vertical shaft, self falling type concrete mixer.
5.The control system including: automatic control system, semi automatic control system, manual control system.
Now we will introduce the aggregate storage system of concrete mixer:
1.Sand storage: The storage hopper is often made of the steel or storage pool made of brick structure. Each storage hopper can be divided into single and double outlet. The double outlet not only save the weighing time, also increase the weighing accuracy.
2.Cement storage of Concrete Mix Plant on Sale can be divided into steel and brick structure. Must be sealed in case of Damp, also need to be equipped with reducer and level metering device.
3.Liquid storage including water tank and pool.There must be the anti corrosion and anti crystallization device for additive tank.