Product Overview
Technical parameters
Inquiry
Introduction:
JBT40 concrete mixer pump is combines the concrete mixer and concrete pump together, achieving integration of pump station. It is most suitable for the houses and commercial buildings, small bridges, water conservancy, power and communication for which the sites are scattered and on-site mixing is required.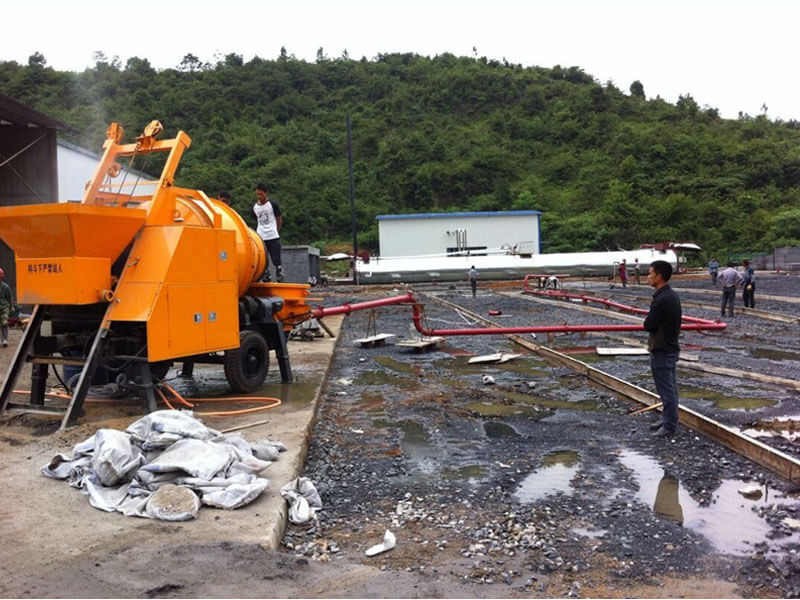 Features:
1) Multifunctional. Combination of function of concrete mixer and concrete pump.
2) Hydraulic Tipping of Feeding Hopper
3) No external power is required. It can be driven by Diesel Engine
4) Top and Central Situation of Hydraulic Oil Tank
5) Concrete Mixer Part and Concrete Pump Part could be separated from each other.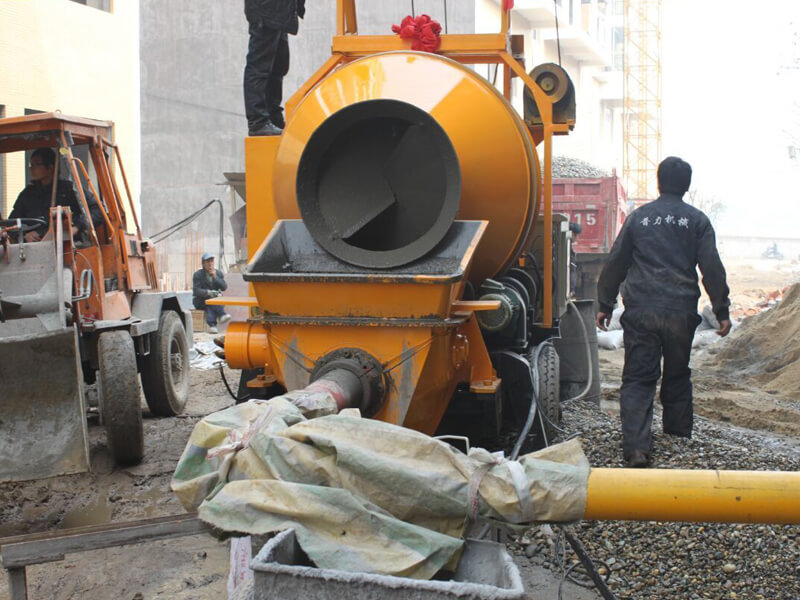 parameter:

| | |
| --- | --- |
| Item | JBT40 |
| Max. theoretical concrete output | 30m3/h |
| Max. theoretical concrete pumping capacity | 40m3/h |
| Theoretical maximum pumping pressure | 8Mpa |
| The form of distribution valve | The S tube placed valve |
| Duct diameter | 180mm |
| Theoretical maximum transmission distance horizontal / vertical | 300/100m |
| Concrete Bore × stroke | 200/1200mm |
| The hopper volume / Feeding height | 600L/1350mm |
| Maximum aggregate size | Pebble: 40 gravel:30 mm |
| Pump motor power | 56kw |
| Mixing motor power | 5.5kw |
| Winch motor power | 4.5kw |
| Water pump motor power | 0.55kw |
| Rated speed | 18Rpm |
| Voltage / frequency | 380V |
| Fuel tank capacity | 350L |
| Dimensions (L × W × H) | 5300*1750*2300mm |
| Weight | 3500kg |
| | |
| --- | --- |
| Item | JBT40 |
| Max. theoretical concrete output | 30m3/h |
| Max. theoretical concrete pumping capacity | 40m3/h |
| Theoretical maximum pumping pressure | 8Mpa |
| The form of distribution valve | The S tube placed valve |
| Duct diameter | 180mm |
| Theoretical maximum transmission distance horizontal / vertical | 300/100m |
| Concrete Bore × stroke | 200/1200mm |
| The hopper volume / Feeding height | 600L/1350mm |
| Maximum aggregate size | Pebble: 40 gravel:30 mm |
| Pump motor power | 56kw |
| Mixing motor power | 5.5kw |
| Winch motor power | 4.5kw |
| Water pump motor power | 0.55kw |
| Rated speed | 18Rpm |
| Voltage / frequency | 380V |
| Fuel tank capacity | 350L |
| Dimensions (L × W × H) | 5300*1750*2300mm |
| Weight | 3500kg |