Product Overview
Technical parameters
Inquiry
HZS50 Concrete Mixing Plan
t


1.Descriptions of HZS50 Concrete Mixing Plant
HZS series concrete mixing plant designed by Zhengzhou Xinyu Machinery Manufacturing Co., Ltd has advanced technology in the world. It is suitable for the commodity concrete and concrete construction in each kind of architectural project, including the water conservancy , the electric power , the railroad, the road , the tunnel, the arch of bridge , the harbor-wharf and the national defense-project and so on.
2.Technical Parameters
Type

HZS25

HZS35

HZS50

HZS75

Production Capacity

25m³/h

35m³/h

50m³/h

75m³/h

Concrete Mixer

JS500

JS750

JS1000

JS1500

Batching System

PLD800

PLD1200

PLD1600

PLD2400

Total Power

60KW

70KW

80KW

90KW

Max Aggregate Siz

80mm

80mm

80mm

80mm

Discharging Height

3800mm

3800mm

3800mm

3800mm

Weighing

Accuracy

Aggregate

±2%

±2%

±2%

±2%

Cement

±2%

±2%

±2%

±2%

Water

±2%

±2%

±2%

±2%

Additive

±2%

±2%

±2%

±2%

Weight

25Ton

30Ton

40Ton

54Ton
3. MIXING SYSTEM
Horizontal twin-shaft compulsory mixer has strong mixing ability, it can mix the materials evenly and effectively. It can mix concrete with different slumps and raw materials ratio.

4.AGGREGATE SYSTEM
The automatic aggregate batching system can be equipped with 2-5 aggregate storage bins according to customers' need.

The weighing system includes aggregate weighing,water weighing,cement weighing and additive weighing(optional)
It is controlled by microcomputer, the weighing is highly accurate and full automatic.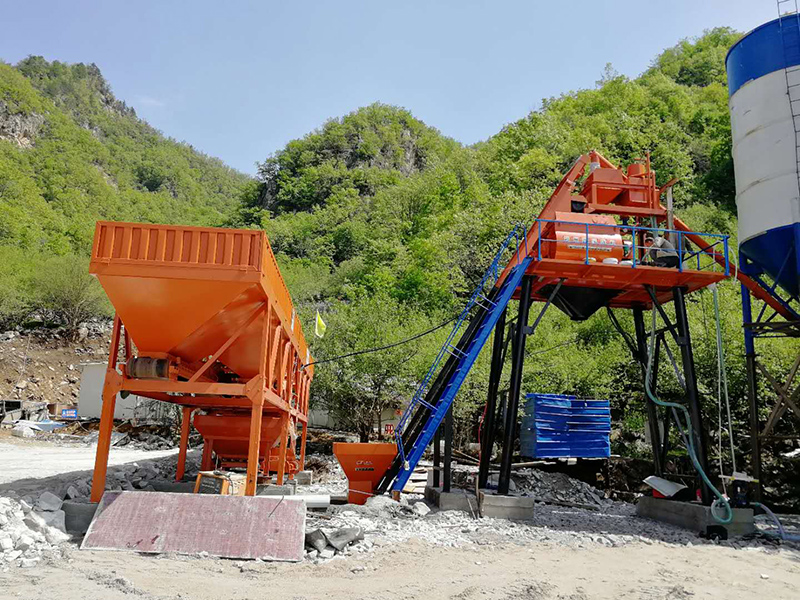 6.Control System
The controlling is independently completed by PLC with high reliability. It has various controlling modes like automatic mode,semi-automatic mode and manual mode.
Adopted high-accuracy load indicator which is specially designed for industrial control, it has the advantages of high reliability,high precision, high efficiency and anti-jamming.
The operation is very easy,only one person can complete.

We adopt high-quality screw conveyor to guarantee the transmission fluently.
We adopt very strong and thick cement silo which is split type, thus can largely save sea freight and it is easy to assembly at installation site abroad.
There is level meter in the cement silo,indicating the cement level; the arc-breaking system guarantee the discharging fluently.
Technical Parameters
Type

HZS25

HZS35

HZS50

HZS75

Production Capacity

25m³/h

35m³/h

50m³/h

75m³/h

Concrete Mixer

JS500

JS750

JS1000

JS1500

Batching System

PLD800

PLD1200

PLD1600

PLD2400

Total Power

60KW

70KW

80KW

90KW

Max Aggregate Siz

80mm

80mm

80mm

80mm

Discharging Height

3800mm

3800mm

3800mm

3800mm

Weighing

Accuracy

Aggregate

±2%

±2%

±2%

±2%

Cement

±2%

±2%

±2%

±2%

Water

±2%

±2%

±2%

±2%

Additive

±2%

±2%

±2%

±2%

Weight

25Ton

30Ton

40Ton

54Ton